Principal Investigator   

Takeshi Inagaki, M.D., Ph.D.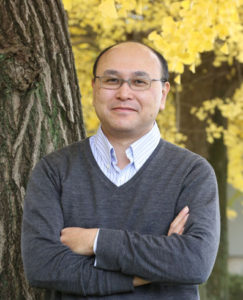 Biography
Takeshi Inagaki is Professor of Laboratory of Epigenetics and Metabolism at the Institute for Molecular and Cellular Regulation, Gunma University.  He earned his M.D., Ph.D. from Shinshu University, Nagano, Japan.  From 2002-2008, he was a postdoctoral fellow and instructor in the laboratory of Drs. Steven Kliewer and David Mangelsdorf at the University of Texas Southwestern Medical Center, where he studied the roles of nuclear receptors and endocrine FGFs.  From 2008–2016, he was an assistant and associate professor at Research Center for Advanced Science and Technology, the University of Tokyo, where he studied metabolic regulations mediated by histone modifiers with Prof. Juro Sakai.  From 2016, he runs a laboratory at Gunma University.  He has been interested in transcriptional regulation mechanism and is investigating the epigenetics and chromatin remodeling governing energy metabolism.
Contact
| | |
| --- | --- |
| E-mail | Inagaki[at]gunma-u.ac.jp |
| Tel | +81-27-220-8835 |
Education
M.D.
Undergraduate / graduate combined program
Shinshu University School of Medicine, Nagano, Japan
Ph.D.
Aging Medicine and Geriatrics, Institute on Aging and Adaptation
Shinshu University Graduate School of Medicine, Nagano, Japan
Research Interest
・ Energy Metabolism
・ Epigenetics
・ Histone modifications and chromatin conformation
・ Nuclear recptors and endocrine FGFs
Histone demethylase JMJD1A coordinates acute and chronic adaptation to cold stress via thermogenic phospho-switch
Abe Y., Fujiwara Y., Takahashi h., Matsumura Y., Sawada T., Jiang S., Nakaki R., Uchida A., Nagao N., Naito M.,  Kajimura S., Kimura H., Osborne T.F., Aburatani H., Kodama T., Inagaki T.*, Sakai J.* (2018)   
Nature Communications 19;9(1):1566.  PMID: 29674659  (*Corresponding author)
---
JMJD1A is a signal-sensing scaffold that regulates acute chromatin dynamics via SWI/SNF association for thermogenesis.
Abe Y., Rozqie R., Matsumura Y., Kawamura T., Nakaki R., Tsurutani Y., Tanimura-Inagaki K., Shiono A., Magoori K., Nakamura K., Ogi S., Kajimura S., Kimura H., Tanaka T., Fukami K., Osborne T.F., Kodama T., Aburatani H., Inagaki T.*, Sakai J.* (2015)  
Nature Communications 7;6:7052.  PMID: 25948511  (*Corresponding author)
---
The FBXL10/KDM2B scaffolding protein associates with novel polycomb repressive complex-1 to regulate adipogenesis. 
Inagaki T.*, Iwasaki S., Matsumura Y., Kawamura T., Tanaka T., Abe Y., Yamasaki A., Tsurutani Y., Yoshida A., Chikaoka Y., Nakamura K., Magoori K., Nakaki R., Osborne T.F., Fukami K., Aburatani H., Kodama T., Sakai J.* (2015). 
J. Biol. Chem.  290(7):4163-77.  PMID: 25533466  (*Corresponding author)
---
Obesity and Metabolic Syndrome in Histone Demethylase JHDM2a Deficient Mice.
Inagaki T., Tachibana M., Magoori K., Kudo H., Tanaka T., Okamura M., Naito M., Kodama T., Shinkai Y., Sakai J. (2009). 
Genes to Cells  14(8):991-1001.  PMID: 19624751
---
 Inhibition of IGF-1 signaling and growth by the fasting-induced hormone FGF21.
Inagaki T., Lin V.Y., Goetz R., Mohammadi M., Mangelsdorf D.J., Kliewer S.A.  (2008). 
Cell Metab.  8(1), 77-83.  PMID: 18585098
---
Endocrine regulation of the fasting response by PPARα-mediated induction of fibroblast growth factor 21. 
Inagaki T., Dutchak P., Zhao G., Ding X., Gautron L., Parameswara V., Li Y., Goetz R., Mohammadi M., Esser V., Elmquist J.K., Gerard R.D., Burgess S.C., Hammer R.E., Mangelsdorf D.J., Kliewer S.A.  (2007).
Cell Metab. 5(6), 415-425.  PMID: 17550777
---
Fibroblast growth factor 15 functions as an enterohepatic signal to regulate bile acid homeostasis.
Inagaki T., Choi M., Moschetta A., Peng L., Cummins C.L., McDonald J.G., Luo G., Jones S.A., Goodwin B., Richardson J.A., Gerard R.D., Repa J.J., Mangelsdorf D.J., Kliewer S.A.  (2005).  
Cell Metab. 2(4), 217-225.  PMID: 16213224
---
 Honors & Awards
・  Lilly Award, the Japan Diabetes Society (2018)
・  Japan Endocrine Society Research Award (2016)
・  Okamoto Research Award (2012)